As I navigate this bloggy world, I have discovered a lot of cool blogs because they have linked up with blogs I read. I have really enjoyed myself these last few days poking around other people's blogs, even though I am doing it anonymously! I am trying to follow my favorites because I find it is easier to logon to Google Reader and keep up with all of them in one spot than it is to go to each one off my favorites list! I am such a people person that it is just natural for me to want to know about other people's lives! Even if they are strangers. Sounds weird, but I know most of you know how I feel! I am finding that the time I usually spend unwinding in front of the TV, I am choosing to read blogs instead and it is so much more fun! I am such a reality show junkie...and that isn't always good...so this is like reality TV but better, less drama, more substance!
I found Leigh and she is doing a Happiness Project! How cool is that, you should check it out!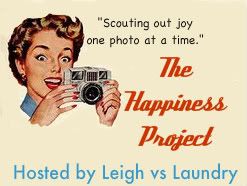 I know that after my last two posts, I need a change of perspective and this is a great way to start...find a picture that make me happy and post it!
This picture makes me HAP - PY!!!!! For OH so many reasons! And these reasons are in NO particular order of importance!
1) I REALLY like my hair! :-) Come on ladies, you all know what a good hair day can do for your mood! And I was digging my hair!
2) Someone else did my make-up that day...and I LOVED it! *i loved that someone else did my make-up and I loved how it turned out!*
3) It's a great picture of me and my Mr. Dream Come True! Even though that day was a crazy day, we were together as a family and those days are few and far between! (and we danced together that day, again a rare occurrence, but I LOVE dancing with him, after almost 10 years of marriage when we dance together and I have to lean my head all the way back just to look in his eyes *he's 6'7* I still get butterflies in my stomach! There is something about the way he looks at me, holds me and always kisses my nose at the end of the dance...sigh)
5) I danced with my eldest son *he's 7* and it was fun & scary all at the same time. I flashed forward 20 years and saw myself dancing with him at his wedding! My heart can't handle that thought!
6) My big sister got married the day this picture was taken!(the reason we were all dolled up and dancing!) WAHOO! She has been waiting for her dream to come true for a very long time. She's 40 and has waited for her true love, never compromised her beliefs and values, dealt with intense loneliness and questioning when would it be her turn for happiness and finally when it was time God brought her the love of her life! Their love story is fun and incredible and my heart is so happy that she has found someone who adores her, respects her and that she can share her life with! She will be an awesome wife and Lord willing, she will become a mother, her heart's desire for so long!
7) I got to hear my mother sing The Lord's Prayer! She has an incredible voice and I don't get to hear her sing too often anymore, she always sends chills down my spine when she does! She's amazing!
8) I got to spend time with friends and family, particularly my brother and his two boys. They live in MO and we don't get to see them very often. We miss them. It was GREAT to have them here! It was even better that his 2yro son LOVED me and was choosing me over him:~) He is my buddy! I didn't want them to go home!
9) I got to witness my dad marry my sister! About 3 years ago, he became an ordained minister after a full career as a contract painter. When he should be retiring, he found his calling. He LOVES what he does, and who is to say that my sister didn't meet her man before because my dad was supposed to marry her?! I LOVE hearing my dad preach! He married my cousin a few months ago and it was incredible, but seeing my dad walk my sister down the aisle, making her laugh the entire way, then marrying his oldest, my sister, was incredible. He didn't get choked up until the end when he said his benediction. As he was reading it he looked into my eyes(my dad is my best friend) and knowing all we had been through in the planning of the wedding, all the prayers we have prayed for my sister, it was like he was speaking directly to me through his eyes. His eyes saying how proud he was of me, of my sister, how happy he was and how much he loved us. Weird I got all that in a look huh? But his benediction was from Numbers and it gets me every time. And the fact that is what he chose to bless them with before he introduced them as husband and wife...I was done for! It was all I could do not to ugly cry!!!!
So looking at this picture brings so many many happy thoughts & memories! This day was full of family, fun and love love love! I love weddings! It literally makes my heart smile and realize how truly blessed I am!
The benediction that my dad read at my sister's wedding seems a perfect way to end this post! I pray that you my bloggy friends take a moment, look through your pictures, remember the memories and let your heart smile! I pray this benediction for all of you...
Numbers 6:24-26
"The Lord bless you, and keep you; the Lord make his face shine on you, and be gracious to you; the Lord lift His countenance on you, and give you peace."