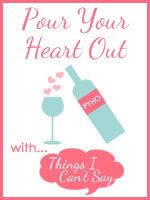 I recently discovered Shell's blog. I particularly love her Pour Your Heart Out Wednesday link ups. I have read some amazing stories and come across some great blogs. I am really addicted to this blog world, yet still feel so inadequate and not sure how to navigate. I laugh and cry at other's blogs, leaving no posts, just mulling over how it would be so cool to create a blogging network of my own but then feeling overwhelmed on how to do that and insecure that anyone would want to even hear what I have to say. I am consistently long winded, whether in real life convo or blogging. I have a "mommy memory blog" and for some time have wanted to start another blog. A blog where I can Pour My Heart Out regularly and not be in fear of what my friends or family might say or think. A self-therapy blog if you will. A place where I can be me, apart from what I identify myself as, a wife, mom, daughter, sister, friend. Just my own space, the good the bad and the ugly. So what better way to start than to link up with Shell's blog and Pour My Heart Out. Here goes nothing.
What I have been pondering lately is my children going to school. My oldest is entering the 2nd grade and my youngest is leaving me for the big, cruel school world entering in kindergarten. Our plans have always been when both boys were in school full time, I would return to work of some sort, part time, fill my days, help bring in income into our household. Well, here we are two weeks from the beginning of the school year and I have no clue what I am going to do, except hyperventilate because my children will be gone all day. I have so many friends who are new mommies with newborns who look at me like I am crazy because what they wouldn't give right now to be in my shoes with time on their hands, 6 hours a day, 5 days a week, seems like a gift...but for me it isn't. It is the end of an era and the beginning of a new one. This era for our family is good. I would never take away watching my boys grow and become the incredible people they are. But it is hard for me to let go and I think because I am struggling to find my place.
My background professionally is in the medical field, as a med assistant for a surgical practice. But I have no degrees, no official training and have been out of that world for 7 years. My passion is people. I long to adopt a child, to give a child a safe, loving environment, a family, a home. I long to work at a crisis pregnancy center, to counsel women who have found themselves in a difficult position. Pregnancy, the pro-life, pro-choice debate(for me there is no debate, pro life is the only answer) is close to my heart and maybe I will save that story for next week's pour your heart out edition, but I have a passion to work with ladies, help them through a scary difficult time. I want to be a nurse, I want to help people. I am all over the map. There are time that I think I could go into marketing, my husband owns a business, I do work for him, very very few hours from home, but I think, I could take my time and market our business, I could go into management. I just don't know. The only thing I am sure of, is I am GOOD at talking and I love people! All these things I can't see how they could become a reality. I need money to go back to school, the crisis pregnancy center isn't a paying job, and we do need an extra income, adopting, costs money. Sigh...
*side note* While considering where to work, what to do, I still have to consider that my husband owns his business, he does not have a flexible job, so I have to still be available to drop my kids off at 9:15AM, pick them up at 3:30PM, stay home with them on their days off, school vacations, and stay home with them when they are sick and during the summer. We didn't work as hard has we have to for me to pay a sitter in the evenings or the summers, they are still our priority and I am still going to be the one with them. So...where do I find a job like that? AND my oldest struggles with asthma and every year, in Oct., he ends up with pneumonia, any sane employer would have fired me last year, he missed 17 days of school because of his asthma. Sigh, and I am the one who does all the DR visits and knows the med regimens and, it's overwhelming...
I am scared of being home, alone for six hours. Scared I will squander my time and get nothing accomplished. Scared I will feel lonely and have to deal with hurts, disappointments and feeling like I have no purpose in this life. Scared that my children don't need me anymore. I have two amazing boys, and I have discovered I am really good at being their mom. And for 7 years that is what I have done. Of course, I won't ever stop being their mom, of course they are still young and need me. But this is a huge transition for me.
As I watch them need their dad more(my amazing Mr. Dream Come True) I wonder what is my place now? I was good at it when they were babies, they needed me, I understood them, I had the patience, it was natural, now that they are older, more independent, wanting their dad, needing their dad, and all I am good for is cooking, washing their clothes, making them take baths and brush their teeth and caving into their every whim like letting them stay up past their bed time with me...I don't know where I fit.
So I sit here wondering where do I go from here, how do I even begin, and am I strong enough to conquer any of these things. I feel pretty alone. I want my boys, my husband, my family, to be proud of me, of the person I am, not just because I am there to be at their beck and call.
I love my family, they are my heart walking outside of my body. But I am realizing for so long I have let ME be so consumed with THEM that I don't know myself anymore.